Therapists
MESALY NEWAY, MA, AMFT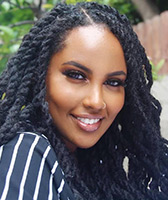 Mesaly Neway, MA, AMFT (#137310) is an Associate Marriage and Family Therapist. She received her master's degree in Clinical Psychology with an emphasis in Marriage and Family Therapy from Pepperdine University. She also received her bachelor's degree in Psychology with an emphasis in Africana Studies from Cal State University, Northridge.
Mesaly provides ongoing therapy for individuals seeking support on a variety of topics including, but not limited to: depression, anxiety, relational conflict, effective communication, self-esteem, intergenerational trauma, and PTSD. Her primary focus is providing a safe, compassionate, and collaborative space for clients to be seen, heard, and understood.
Mesaly believes therapy can be a tool that offers individuals the gift of self-awareness and the ability to live a more authentic life. Her therapeutic approach is one that integrates mindfulness-based interventions with the exploration of underlying reasons for emotional and behavioral patterns - as it is the awareness of one's inner world that creates one's outer experience.
Mesaly views the therapeutic process as something that is sacred. She believes deep healing is possible through the development and cultivation of a trusting, authentic, and non-judgmental relationship with her clients. She understands the courage that is exhibited in reaching out for support and welcomes the opportunity to work with you.